New Patients can get an exam and digital x-rays for $79.
General Dentistry
Our team of dedicated dentists at Advanced Smile Care is honored to provide comprehensive general dentistry services. We strive to help our patients enjoy vibrant oral health by focusing on early detection of disease and preventive dental services. From dental checkups and cleanings to placing fillings or extracting teeth, our practice is a one-stop location for all your oral health and dental needs.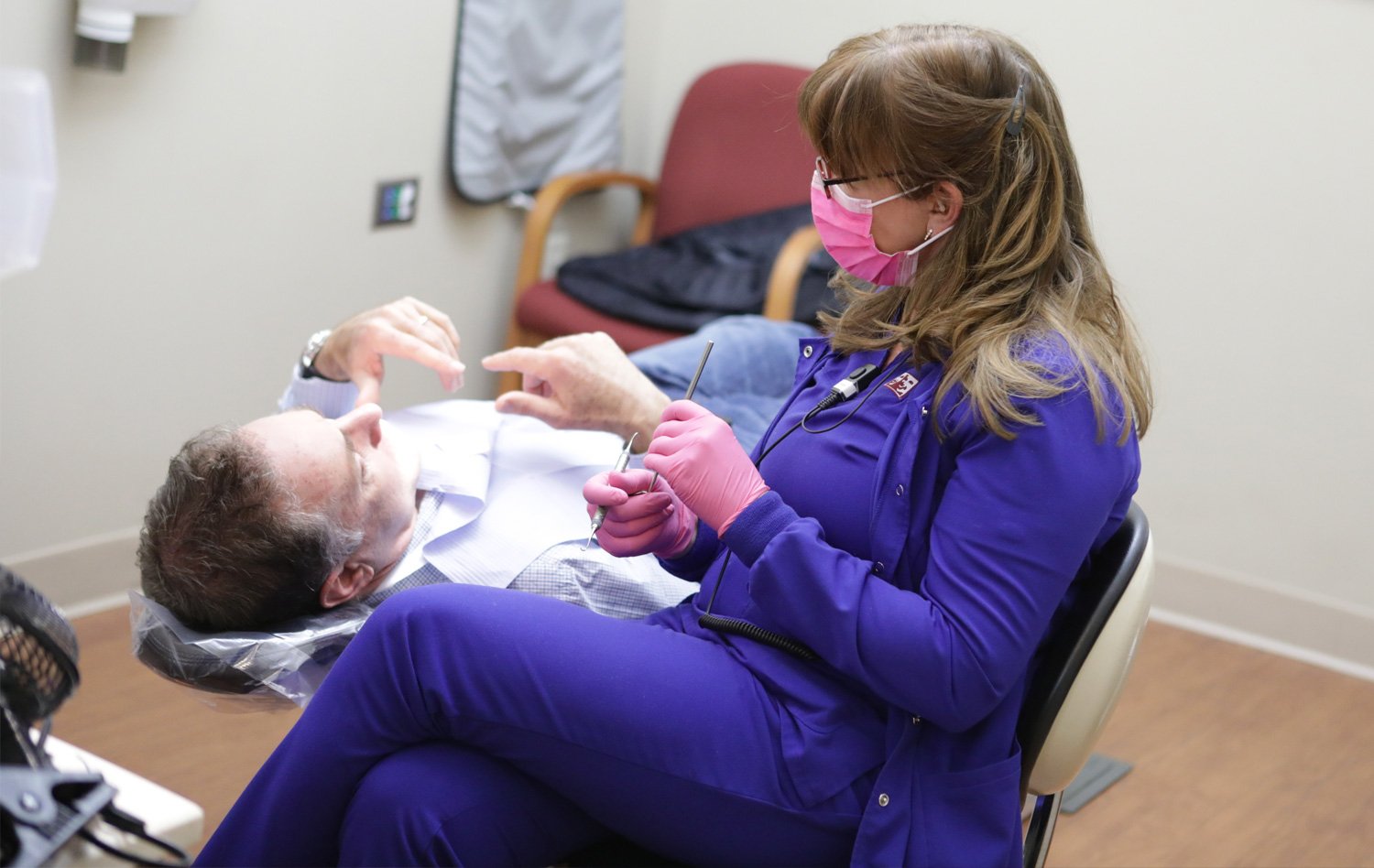 You should visit the dentist at least twice a year, every six months for checkups and cleanings. Some people underestimate the importance of routine dental care and feel that visiting the dentist is only necessary when/if they experience discomfort like toothaches or a chipped tooth. Unfortunately, this line of thinking is problematic because many oral conditions do not present noticeable symptoms to patients until there are painful consequences.
Regular dental cleanings help:
Lower your risk for some diseases, like heart disease and stroke
Save money on dental expenses in the long run
Prevent gum disease, which leads to early tooth loss
Our General Dentistry Services
Checkups and Cleanings
Common oral health conditions such as gum disease, tooth decay, and even oral cancer, can be revealed in their earliest stages when patients receive regular cleanings and checkups.
Sleep Apnea Appliances
One method of treatment is the use of custom oral appliances. Similar to a mouth guard, a sleep apnea appliance increases the diameter of the airway by positioning the lower jaw slightly forward to help keep airways open during rest.  We work with sleep specialists to diagnose your condition and to determine the most effective treatment plan.
Tooth-Colored Fillings
Our dentists use only tooth-colored materials to restore your teeth after removing your cavities.  We make your teeth appear as natural as possible and cosmetically appealing.
Tooth Extractions
Our team at Advanced Smile Care provides gentle and effective extraction services to help our patients regain comfortable oral function and improve their quality of life.
Our Expertise
The dentists at Advanced Smile Care have years of experience treating patients with general dentistry needs. Our team is specially trained to work with the latest innovations in dentistry to ensure your smile is bright and healthy.
Call (210) 366-3606
It shouldn't hurt to smile.
Learn about the experiences of our patients at the dentist.
Heather Haby Brock

Facebook

"I have a phobia of dentists but Dr Cavazos is amazing! I had a procedure done under oral anesthesia and didn't feel a thing. Everyone there is super nice. I recommend Advanced Smile Care to anyone."
Arthur Deininger

Facebook

"Best visit I've ever had with a dentist. From the moment I walked through the door my anxiety was gone. I'm glad I made the choice to go with Advanced Smile Care. They care about what you want and respect your choices."
Lottie Leyva

Facebook

"I was treated very kindly. I was basically pampered. Don't get me wrong, it was dental work but I never felt a thing. I got to watch T.V. Thank you, Dr. Hauser and your awesome staff... from the moment I walk in, to the set up, the dental work, the scheduling as I leave, thank you."
Claudia Castillo

Google

"I highly recommend Advanced Smile Care for the quality service they provide, friendly/charismatic staff, and their ability to put you at ease when getting your teeth checked! Thank you for all you do for your patients and the community! I'm proud to be your patient!"
Stacy Vannell

Facebook

"I just had my first cleaning with Wendy and saw Dr. Kboudi. Everyone from the front desk staff to the Doctor were exceptionally friendly. My husband had some dental work done here also and had a great experience, and recommended I also come in for my dental care."
Kourtney O.

Yelp

"Amazing staff and very clean facility. I was late and the lady called me asking if I was lost and needed direction. Once I got inside the the lady was very friendly and walked me through all the steps and then a nurse came out with a gift saying welcome to the office. "
Katie G.

Yelp

" I will even shake violently while laying in the chair. It's a nightmare. However, the entire staff at ASC puts you at ease and makes you feel welcome as soon as you walk through the door. You can tell it's an important part of what they do, maybe even the most important. "